Mark Cuban has never shied away from new ideas and concepts in technology. His technical knowledge enabled him to be one of the first high-profile, outspoken billionaires to understand how a blockchain operates, and articulate his predictions about its current and future role in our society. Cuban has referred to bitcoin as being "...very much a gamble.", and even saying "I see gold and Bitcoin as being the same thing.", the latter of which he holds a very low opinion of. That being said, and as an admitted owner of both Bitcoin and Ether, Cuban has publically put his money where his mouth is, and he's doing it again in a big way.
In the beginning of last year, Cuban was asked on Twitter when his NBA team, the Dallas Mavericks, would accept Bitcoin, to which Cuban responded: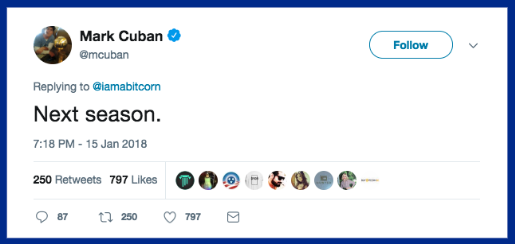 Sticking to his word, the Dallas Mavericks released the news yesterday that they will indeed be accepting Bitcoin for the purchase of both merchandise and event tickets. The team will not be accepting Bitcoin directly, but will follow in the footsteps of the Sacramento Kings (the first NBA team to make the Bitcoin leap, back in 2014), and choosing the divisively viewed Bitpay to process the payments. In the spirit of making the use of Bitcoin a easy transition for fans, Cuban stated:
"We want our fans who would like to pay with Bitcoin the opportunity to do so. BitPay allows our global fans to seamlessly make purchases with the Mavs."
Tickets may currently only be purchased over the phone, however the Bitpay options is now live in the Mavericks' online merchandise shop.