While ICOs have raised an estimated
$11B in 2018
alone, we wanted to highlight the investments into teams, companies and technologies as opposed to in tokens which may or may not have any actual utility or value. This should be an encouraging reminder that amidst the FUD and noise, real projects are getting funded regularly.   And as with all traditional venture capital investments, the crypto space is seeing funding go to strong teams, big ideas and growth plans, and demonstrable history of execution.
Venture Capital Investment into Blockchain and Crypto Projects - up 280% from last year
According to a study published on
Diar
, almost $4 billion in VC capital in 2018. Both the volume of deals as well as the median valuation of companies getting funded is on the rise - a sign of a maturing industry as a whole. The most active investors in the space include Barry Silbert's Digital Currency Group (DCG) was "by far" the most prolific investor from the VC sector, closing over 110 deals in the crypto and blockchain space this year. DCG outflanked both Blockchain Capital and Pantera Capital, whose combined deals clocked in at 100. Other strong investors included VC firms Andreessen Horowitz, Danhua Capital, and Future Perfect Ventures, alongside "active angels" Tim Draper, Naval Ravikant, Roger Ver, and Barry Silbert.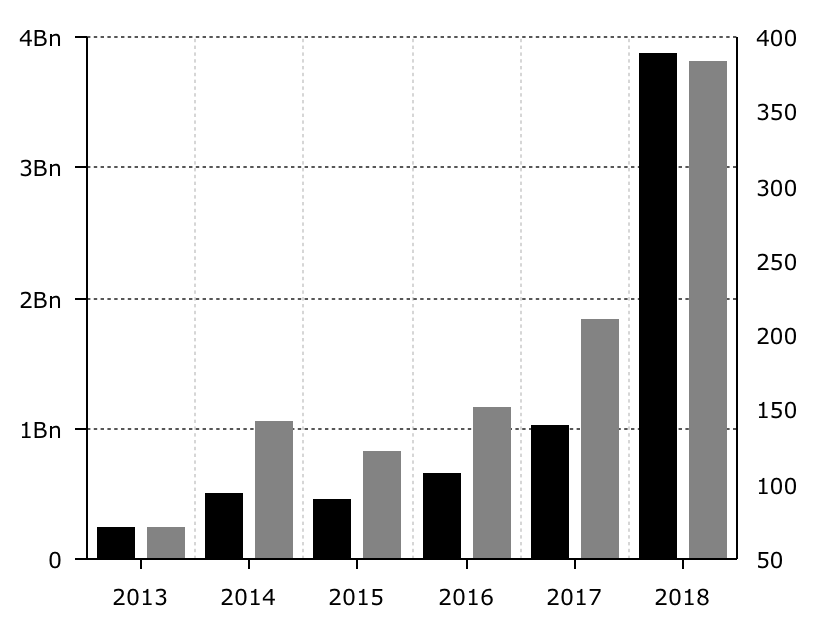 Credit: Diar
Select Investments into Crypto Projects in 2018
When crypto critics and nocoiners all want to call crypto dead to grab headlines and clicks, this can serve as a strong reminder that smart money is pumping billions of dollars into the ecosystem, making a huge bet on the future of crypto.