A good argument against centralized payment systems is showing itself right now in the UK and other parts of Europe. Referred to as causing "chaos",
reports
have been flooding in across Europe as customers have been unable to use their VISA credit and debit cards at retail locations and gas stations. Visa has confirmed the issue, releasing a statement:
https://twitter.com/VisaNewsEurope/status/1002579704161951745
Nevertheless, customers and retailers alike have taken to social media to corroborate these reports. Mark and Spencer (retail clothing store) stated:
"We are unable to accept Visa card payments currently. No retailers are able to accept Visa cards."
Sainsbury's (a massive grocery store chain based in the UK) similarly stated:
"We are aware that Visa are currently experiencing problems. We are doing our best to help our customers and apologize for any inconvenience."
Customers also are well aware of the issue, and not taking kindly to the disruption of convenience: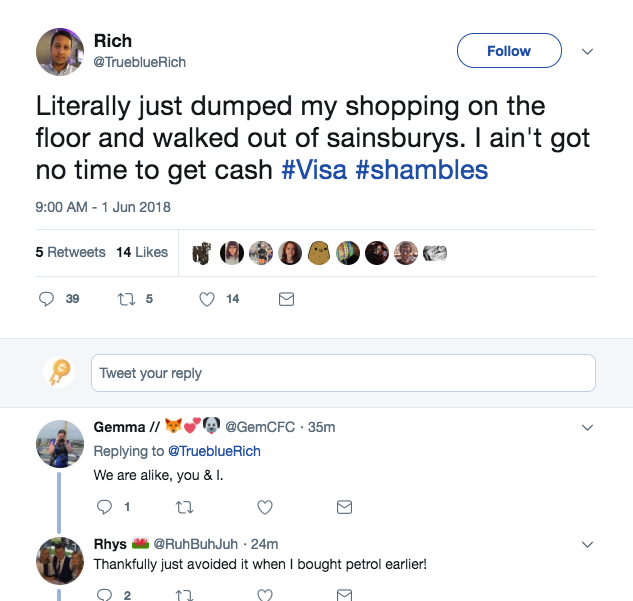 https://twitter.com/TrueblueRich/status/1002580567915925504
Customers are reportedly able to use their Visa debit card in ATMs, but for now this is the only place the cards have been functioning. Concern for many is the lines at ATMs are likely to be huge, as people previously relying on use of credit cards, will now need to rely on cash, potentially for the whole weekend. The Bank of England released this statement sharing the sentiment of the situation:
"There is never a good time for the payments system to go down but a Friday afternoon, when there is a flood of people leaving work, must be among the worst."
While at the moment, it is only Visa customers experiencing this epidemic of card decline, it's a time to ask ourselves, do we want to continue to rely on centralized creditors? Though it's our money, the liquidity of that money is in the hands of these large organizations' ability to function and stay safe from an attack (not that we are assuming this is some sort of hack or attack) or an outage. Also, not intending to capitalize on an unfortunate and scary situation, this makes the case for the use of liquid, decentralized and widely accepted digital currencies (like Bitcoin, Ether and Litecoin) in the mass-retail space. The public's reliance on the centralized Visa payment system puts people too much in the mercy of the organization. Owning, holding and controlling your money is truly a powerful thing, and because the functionality and verification of digital currency is decentralized, existing on the powerful, immutable blockchain, gives us the ability to manage that power of our money aptly, and securely. Again, it sometimes takes a panic-ridden situation like this to make us realize that there are SUPERIOR alternatives, which also function quickly, more cheaply and just as globally. Best wishes for the affected customers across Europe. We'll update this story as the news rolls in. Stay safe everyone!